Frequently Asked Questions
Do I need any experience before booking a lesson
No, you don't. Some people come to us, having had a few lessons from family or friends although most have no experience. However it's better to use an accredited driving instructor to ensure you don't pick up someone else's poor driving habits. Additionally you will learn the latest road rules.
How many lessons do I need?
There is no straight answer. It depends how much experience you bring to your first lesson, on your confidence level, your natural ability and how quick a learner you are. In most cases, all this can be covered within 10-20 lessons. But additional lessons may be needed to build up confidence and a sense of the road.
Queensland TMR requires learner drivers to complete 100 hours of driving experience (which is to be completed in a logbook). Using an accredited driver trainer such as Walk No More, 10 hours are counted as triple time (total 600 real minutes = 1800 logbook minutes).
When can I take my lessons?
Depending on other bookings, lessons can be taken from 6:00am to 9:00pm, seven days a week.
Can I get refresher lessons?
Yes, the lessons are the same. If you haven't driven for some time and have lost your confidence on the road, it's a really good idea to book in for a few lessons to regain that confidence.
What type of cars does Walk No More Driving School operate?
Currently we only have automatic vehicles available. They have dual controls on the instructor's side enabling us to help if required and to assist with your fast learning.
If your ultimate aim is to obtain a manual licence, it is possible to take your first lessons in our vehicles and finish off the training in your own manual vehicle. This allows you to firstly, learn how to drive the vehicle and then finally how to utilise a clutch and gear selection. Or it may be possible to do all of your training in your manual vehicle. It is preferable that you do drive what you are more comfortable in.
I don't have transport, can driving lessons be taken where I live?
Yes, we provide a door-to-door service free pickup for driving lessons. We will pick you up from your house, school or work within Toowoomba city limits. Areas outside Toowoomba are by arrangement only and maybe at extra cost.
Can the pick up and drop off locations be different?
Yes, as long as it is within Toowoomba city limits. Just inform our instructor before the lesson commences.
What do I need to be able to take lessons?
You will need to have a valid QLD Learners, Conditional, Open or Overseas Licence.
How can I pay for my driving lessons?
Payment can be made by cash or Direct Credit. Payment for lessons should either be prepaid or at the commencement of each lesson.
How can I obtain a Learners Licence?
You must visit a local Department of Transport and Main Roads (TMR) Customer Service Centre and pass a written test.
Where can I book for my actual Driving Test?
Driving tests can be booked online with the TMR. If you wish to have a lesson before your exam please contact us to arrange a time that would suit you and our instructors.
Please note that we provide training ONLY. All testing is done through the TMR.
Can I convert from an Overseas Drivers Licence?
Depending on the country you are from, there are different rules to consider when you are converting from an overseas drivers licence to a Queensland drivers licence. Licences from some countries only require a theory test, where other countries have to do both a theory and practical exam.
All of our driving instructors are qualified with QLD TMR and are very familiar with the roads in Queensland. Their mother tongue is English and they understand the difficulty you might have with the language. They are very patient and able to explain things methodically.
What if I am a mature person who hasn't driven before?
Then we encourage you all the more. Driving brings a level of freedom that so many take for granted. It seems daunting to everyone to begin with, young and old; while some younger students may take to driving like a duck to water, we have many older students who are equally successful in passing their test; they may just take a little longer.
Can I get refresher lessons?
Yes, the lessons are the same. If you haven't driven for some time and have lost your confidence on the road, it's a really good idea to book in for a few lessons to regain that confidence.
What if I have to cancel a lesson?
It would be appreciated if you could let us know with at least 24 hours notice otherwise a cancellation charge will be incurred as follows:
Cancellation within 24 hours $35
Cancellation at the booked commencement time $65
What if I fail my driving test?
The most important thing is to not lose confidence. People fail tests all the time - they can seem quite difficult when the material is new. Just book in for another test at a time that suits you, as soon as possible.
Can I purchase Gift Vouchers?
Driving Lesson Gift Vouchers make great gifts for Birthdays and Christmas or just to say thank you.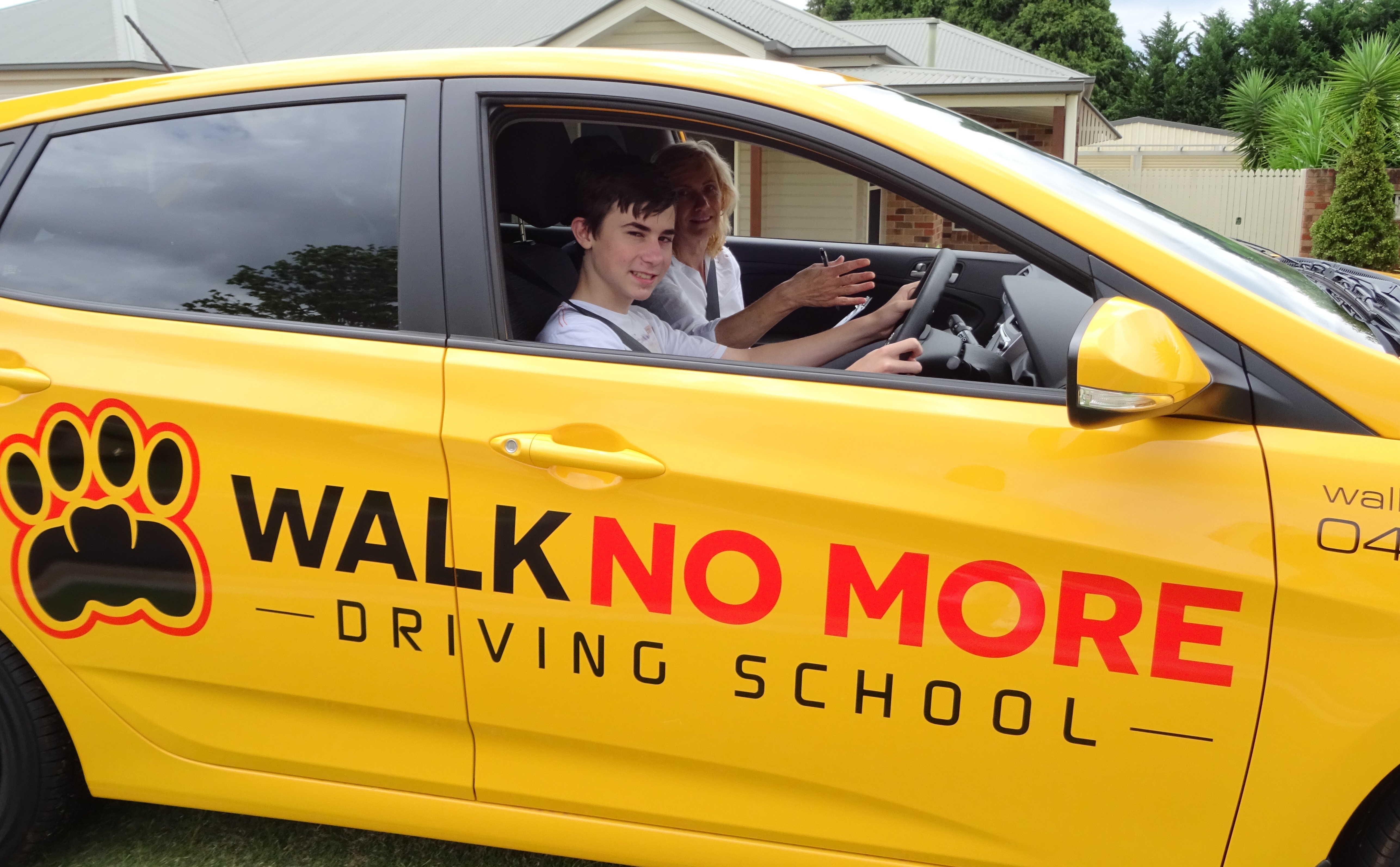 Glenn - Toowoomba based qualified & accredited Driving Instructor with a student.